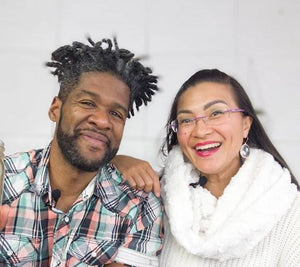 Episode 2 - Alfred & Clem on Understanding & Unifying
00:00 Podcast and guest introductions for Clem & Alfred:
Together, they have:
Started and co-owned the Victory Get Fit Club gym in Federal Way, WA---First outdoor bootcamp in Puget sound
Trained men and women award-winning professional fitness competitors —two pro car
Produced and hosted their own bodybuilding competitions 4 years (my first time stepping on stage!)
They are bodybuilding judges
They run their own podcast and vlog "Unequally Yoked."
Alfred also:
Owns the Ra'oof Realty Team (can find him on his Facebook page Alfred Ra'oof Realty)
Recently at 47 years of age placed 4th in the WORLD at the IPE World Natural Bodybuilding Open Class and 2nd in the Master's Class for athletes 40+.
Clem is a:
Personal Trainer-Sound Healing Practitioner
Certified Self-Care & Empowerment Coach (find out more on her website slayandshine.com)
Co-president of the Girlfriend's Success Circle
Bodybuilding competitor
02:00 Raising mixed-race children in today's political climate.
07:40 As white people, what should we do right now?
15:20 Effectively speaking out against racism to friends and family.
16:30 "The Talk."
24:35 Analogy of the houses burning down. "All Houses Matter."
---