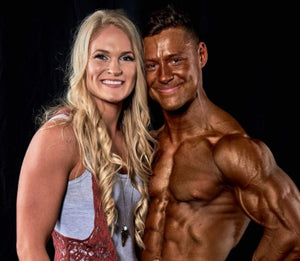 E6 - Robert & Crystal Sikes, KETO SAVAGES, PT1
In this 6th episode we interviewed The Keto Savage and the Lady Savage, Robert & Crystal Sikes!
Robert:
website: theketosavage.com
Instagram: @ketosavage
Crystal:
website: ladysavage.com
Instagram: @the.lady.savage
Keto Brick: https://www.ketobrick.com/
Apparel: https://livesavageapparel.com/
00:00 Introduction: The Keto Savages.
05:00 Savage Headquarters.
08:00 Purpose in starting Keto diet and bodybuilding.
11:20 Food & exercise as medicine.
12:35 Healing relationship with food and eating disorders.
21:35 "Bro-dieting" vs. strict Keto approach.
27:05 Robert's macros.
29:28 Keto-adapted weightlifting.
30:06 Questions on Keto adaptation.
---