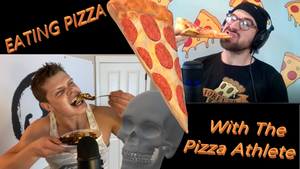 E37 - Eating Pizza with The Pizza Athlete Himself!
Gregory Boytos is an LA-based award-winning comedian, author, SUPER-ATHLETE (marathons, powerlifting, crossfit, mountain climbing, and lots more), multi-platform marketer, and a PIZZA EATING MACHINE!
Instagram: @thepizzaathlete
YouTube: ThePizzaAthlete (all one word) https://www.youtube.com/channel/UC56a7MJqZpl-IFMAxS1ugig
Website: https://www.gregoryboytos.com/
Book (available on website and Amazon): The Great Pizza Experiment
Show notes:
00:00 Gregory's bio, how we met, and what we have in common.
03:11 Pizza vs. sandwiches.
05:35 Vegetables are gross.
07:14 Macronutrient ratios of pizza concerning health and athletic performance.
12:39 Intermittent fasting, meal timing, and workout timing; training fed vs. training fasted.
15:45 gluconeogenesis - n - metabolic process by which glucose is produced from non-carbohydrate sources such as protein.
17:57 Elimination diets vs. "everything in moderation." Which one is right for you?
26:55 Both of our experiences getting our ravenous appetites under control!
32:10 Reading self-help and motivational books for mindset more than looking for specific secrets.
38:17 Favorite Skullbellz™ exercises and how they compare to traditional dumbbells.
47:58 How Gregory SUPERSETS his life.
52:21 How society demonizes food. Do what works for YOU! You don't have to eat the way we eat.
---