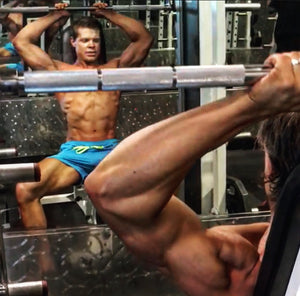 E30 - How to Write a Workout Plan, Step by Step
Overview of Workout Segments:
1. WARM-UP
2. ACTIVATION SUPERSETS
3. PUMP SETS (or supersets)
4. STRENGTH SETS (or supersets)
5. STRETCH SETS (or supersets)
6. COOL-DOWN
(Inspired by John Meadows; overview described at 25:52)
Show notes:
00:05 The art and joy of writing workout plans.
02:00 Assumption #1: Your Goals.
03:52 Philosophy on Death, Skullbellz, Body & Spirit: Making the most of your life, with the time you have, even including your workout. Body = Temple.
09:21 Assumption #2: Equipment.
12:21 The importance of training for STRENGTH, MUSCLE, and PERFORMANCE instead of training to "lose weight."
15:40 The dangers of "cutting and dieting" on your physical and emotional health, and why I do not weigh myself.
18:10 Identifying your weak points.
25:52 Overview of workout segments (inspired by John Meadows).
26:15 What are "strength sets" and how often should they be used? Dangers of overtraining with heavy weight.
27:27 Shameless dad joke about "Snap City."
28:18 The Men's Physique NPC Competitor that was squatting circles around me at Body Shop in Bothell, WA.
29:40 Why injuries in bodybuilding are completely avoidable.
31:49 SEGMENT 1 -- THE WARM-UP.
36:38 SEGMENT 2 -- ACTIVATION SUPERSETS.
37:45 When to use isolation vs. compound exercises.
39:02 The most common injuries associated with deadlifts and how to avoid them.
42:52 SEGMENT 3 -- PUMP SETS (or supersets).
43:10 Why ideal rep ranges for upper and lower body are different.
47:12 Why free weights are superior to machines, and when to use machines.
48:00 Converging Super-Pronated Behind-the-Neck Presses. "The key to a quality physique is all in the WRIST." --Chris Bumstead, IFBB Classic Physique Mr. Olympia 2020
50:00 Deltoid training and "shock methods" for stubborn muscles.
51:18 Lifting heavy weight safely without a spotter.
52:08 SQUATS VS. DEADLIFTS: Which should I do? Which is better?
53:01 SEGMENT 4 -- STRENGTH SETS (or supersets)
53:20 Hormonal and psychological benefits to lifting heavy weight in the 3-5 rep range.
54:20 SEGMENT 5 -- STRETCH SETS (or supersets)
55:51 When to incorporate HIIT cardio.
56:18 Posing & Flexing--much more than vanity. Applications learned from Arnold's Bodybuilding Encyclopedia.
57:21 SEGMENT 6 -- COOL-DOWN
58:10 The importance of stretching.
---