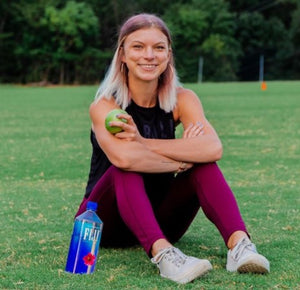 E23 - Samantha Warren on Strength Training, Online Coaching, and Branding
Samantha Warren, a full-time personal trainer from Washington, DC, helps women live their best lives though science-based practices, good food & strength gains. Her clients and social media following benefit from her extensive experience, her education (master's degree in exercise science), her fun, high-energy approach, and her big heart. 
Samantha can be found on Instagram at @samanthaaadearfit.
Her website samanthaaadearfit.com has link to her website where you can apply for one-on-one coaching, find 12-week gym / home workout guides for purchase, as well as free workouts and challenges.
Four years ago, Samantha and I connected over Instagram (of all places) when I started my account first for bodybuilding and then for personal training, and now for Skullbellz. Over the years we've been motivating friends to each other, and over the last 12 months especially she's really created a powerful, unique brand so I reached out and asked if she would like to share some of her methods, introduce her to my wife, and converse what all three of us love: GETTING STRONGER and the FITNESS INDUSTRY.
We discuss our different approaches to nutrition, our passions for strength training, how physical fitness SUPERSETS with mental and spiritual fitness, COVID-19's impact on our industry, and personal branding vs. business branding.
For some context, we started by asking her about her background and how she got started.
Show notes:
01:59 The value of formal education in the fitness industry.
03:20 The importance of making workout programs FUN!
04:36 How physical fitness SUPERSETS with mental and spiritual fitness; the impact of surrounding yourself with quality influences.
06:20 Necessity of rest days in any training program.
06:48 Carbs vs. fats vs. protein for primary fuel sources; benefits and pitfalls of each.
09:21 Samantha's meal prepping.
11:15 Methods of coaching clients on nutrition; being an available, encouraging resource and accountability partner.
13:03 Building a professional, attractive Instagram profile. Methods of building a personal brand, for beginners. Finding small hashtags in your niche and building from there. Post timing and patterns.
14:16 Massage therapy with the NFL "Washington Football Team"
15:56 Deciding to go ALL-IN with her passion of personal training.
17:36 Working for a gym vs. working for yourself.
---