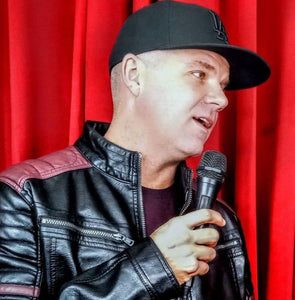 E21 - Mike Parker on Comedy in Seattle, Science vs. Religion, and Cabernets
Mike Parker (IG: @mikeparkerjokes) is an LA-based comedian who now lives in Seattle, WA. Having performed together frequently over the years, Mike has become a close friend and has been there a lot for me, congratulating me after my good sets and critiquing me on my bad ones. He's got a big heart, a distinct, authentic approach to the art of stand-up, and a relentless spirit. We had so much fun in this discussion we booked a follow-up interview for next month so you'll hear from him again soon! 
Show notes:
02:51 Ecclesiastes 3:1-4 What the Bible has to say about laughing.
03:45 Video & podcast editing software; DIY publishing.
14:14 Mike's joke about his girlfriend and his boat (my favorite :D)
15:13 When the audience takes jokes the wrong way!
16:19 Review of Rodney Strong 2017 Cabernet; sweeter than most cabs but not too "fruit-forward." Pleasant notes of nutmeg and a little pepper!
23:53 "Close Friends Only" Instagram stories are useful!
26:41 Social media strategies for comedians that can't perform due to social distancing restrictions.
29:42 Mike calls out conservative Christians for the hypocrisy.
33:03 Some hardcore stereotypical "Christian's" illegitimate accusations of Daniel Fusco, pastor of Crossroads Community Church for being a "false teacher" because he has long hair.
35:11 Using the Word of God as a weapon to spread "hate."
37:10 Matthew 5:39 – Jesus is not a passivist and a pushover that advocates taking physical abuse, as most people interpret this passage.
42:41 Do we take explicit passages from the Bible literally or are they stories to be interpreted spiritually? Did Jonah really get spat out by a giant fish?
45:32 Practical perspectives on faith vs. atheism; salvation and afterlife.
51:52 "The Canopy Theory." What scientifically caused the flood in the book of Genesis?
1:02:10 My kids breaking into our recording studio!
---