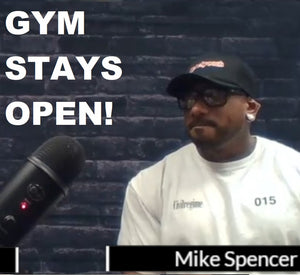 E17 - Gym Stays Open to Stay Healthy!
Despite WA State social distancing regulations, the management at West Coast Fitness believes they are an essential business that is an asset to their community in the midst of a pandemic. Colt interviews IFBB Professional Bodybuilder Mike Spencer, co-owner of the popular West Coast Fitness gym in Lacey, WA and together they discuss the importance of remaining fit and healthy--both physically and emotionally, and how they have adjusted their business practices to accommodate for concerns related to COVID19.
Mike Spencer can be found on Instagram at @ifbbpro_michaelspencer03 and @westcoastfitnesslacey.
His new YouTube series Too Average Pros can be found at https://www.youtube.com/channel/UCjaMQtvGs5NRB76ZueTcQOg.
Show notes:
01:21 Why West Coast Fitness Lacey has chosen to remain open.
04:32 Negative feedback from people who misunderstand their reasoning for remaining open.
10:03 The importance of continuing to be an asset to their community.
18:09 Mike's journey in becoming an IFBB Pro.
21:22 Dedication required to make a living as a bodybuilder.
25:34 Taking breaks from competing to focus on family.
25:51 Nick, the CEO and co-founder of West Coast Fitness.
29:03 The joy of #DADLIFE! Being a dad is the greatest fulfillment; the ultimate accomplishment of a man.
32:23 Bodybuilding is a TEAM SPORT!
40:55 Types of members, equipment, environment, and what to expect at West Coast Fitness.
43:29 COVID19's devastating impact on the fitness industry and the lives of athletes.
43:02 This is NOT A POLITICAL STATEMENT! This is our opinion and our contribution to the health of our community.
---