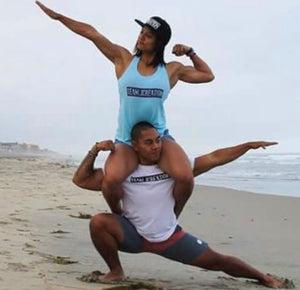 E13 - Jermaine Castaneda & Edna Ferrer, Pro Bodybuilders on Strong Man, Building Muscle, and Holistic GAINZ!
SUPERSET PHILOSOPHY: Simply put, focused, measurable results ON THE STAGE create a set of SELF-PROVEN PRINCIPLES they apply to the next challenge.
We discuss building muscle, what it's like coaching your spouse, the role strength has in sculpting a physique, misconceptions about training methods for women, progress tracking methods, and for you MEAT-HEADS: muscle development techniques for the lats and quads!
Jermaine and Edna are also San-Diego-based bodybuilding show promotors, coaches, and award-winning powerlifters. Information on their upcoming shows can be found on teamjcreation.com.
They can be found on Instagram as @eeddddnnnaa_mode and @maineevent. 
Show notes:
01:43 Why Jermaine and Edna started careers in bodybuilding.
07:48 Building a home gym for strong man and bodybuilding training.
11:06 Promoting the upcoming SoCal Uproar: August 7, 2021.
13:47 Next competitions and current physical goals.
15:55 Bulking: Are you building muscle or getting fat?
17:16 How to use the mirror as a measure of progress for aesthetics instead of obsessing over body fat percentages and weights.
22:29 How to stay motivated with no competitions in the near future.
24:45 Struggling with burnout.
26:29 Which is more gratifying--winning a national title as a professional or achieving your personal best physique you've ever brought to the stage?
28:44 Difficulties eating out on a diet!
29:29 How Edna's strong-man training does not make her giant and bulky!
31:11 Non-traditional exercises to target the lower lats.
34:34 Should bodybuilders engage in dance activities such as ballet to train for posing routines?
37:07 Leg press and leg extenions variations used for developing the outer quadriceps heads to sculpt a classic physique.
41:41 The importance of counter-balancing focus between fitness and non-fitness activities to reduce stress and optimize results.
43:39 Edna's methods of "backing off" when she is burnt out and results begin to stop.
44:20 Holistic GAINZ! Supersetting physical fitness into spiritual, mental, and relational success.
Jermaine and Edna's expertise has been a valuable asset in Colt's bodybuilding career. Edna was a judge at the Hollywood Supernatural Bodybuilding Competition in Hollywood, CA in June of 2019 where Colt and his brother Beau competed together in one of the largest drug-tested competitions on the west coast. Edna was kind enough after the show to spend a significant amount of time offering new training considerations and posing tips. This guidance helped him to place better at his next competitions, nearly winning a pro title himself. Since then, they have stayed in communication, and she and Jermaine have continued to inspire and respond to the endless amount of questions my curious husband always has 😊
---