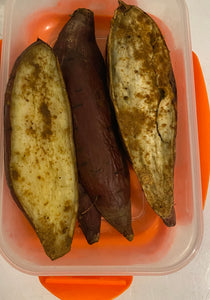 Tequila Lime Sweet Potatoes
This is the simplest & easiest methods of preparing the Japanese Murasaki sweet potatoes found at Trader Joe's. 
These can be enjoyed re-heated in a toaster oven or cold right out of the refrigerator the next day.
Ingredients:
10 lbs. Murasaki sweet potatoes
Cheap tequila
Lime juice
Ginger powder
Directions:
Preheat oven to 380 degrees Fahrenheit.
Slice all of the sweet potatoes lengthwise with a long, sharp knife.
Place the sweet potatoes face-up (the side that is cut) on parchment paper over baking sheets.
Cover the sweet potatoes with tequila and lime juice, to taste.
Add the ginger powder afterward so the liquids don't wash it off.
Bake for about an hour, or until all of the sweet potatoes are soft to the touch.

Remove the pans, let them cool, and sort into evenly-weighed meal prep containers.
PRO TIP: Keep as much space between the pans as possible when you place them in the oven. This will give them breathing room that will keep them from staying humid, resulting in a pleasant, dry texture on the top.
Per 6oz serving: 122.2 Cal / 3.1g pro / 27g carbs / 0.2g fat
Makes about 18 servings.
---