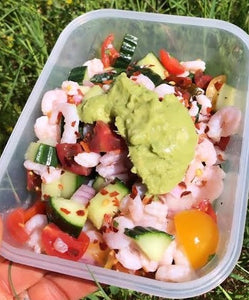 Shrimp Ceviche
This is a Mexican-style, 100% Paleo, high-protein, low-carb, low-fat, highly nutritious and satisfying meal that can be enjoyed anywhere because it doesn't need to be heated up! Enjoy with chips or with a spoon! Great for hikes, travel, and picnics! Add guacamole or salsa for variety 😊
Ingredients:
2 lbs cooked & peeled *wild* shrimp
2 large cucumbers
2 large tomatoes
1 red onion
Cilantro
Lime juice
Salt, pepper, & garlic powder (to taste)
Directions:
Dice all of the vegetables and separate the leaves from the stems (save the stems for a salad or something; there's a lot of nutrients in those)
Strain shrimp and combine with the vegetables.
Mix well with the lime juice, then strain the lime juice.
Mix in salt, pepper, & garlic powder to taste.
Separate evenly into 6 meal prep containers.
*Pro tip: If you are tracking your protein meticulously, prepare the vegetables first and then add in exactly 6oz of shrimp as the last step*
Per 6oz serving: 146.2 Cal / 29.8 pro / 3g carbs / 1.8g fat
---