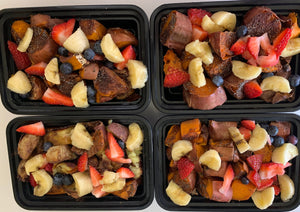 Pumpkin-Spiced Sweet Potatoes
You won't want to wait until the fall to treat yourself to these. As with any paleo recipe, the goal is to bring out the natural flavor of the food without over-stating it. When you bake these, other people in the house will ask who's making pumpkin pie.
Ingredients:
10 lbs. orange sweet potatoes
Cinnamon
Nutmeg
Ground cloves
Poppyseeds
Pink Himalayan salt
Mixed fruit (optional)
Directions:
Preheat oven to 380 degrees Fahrenheit.
Place the sweet potatoes on pieces of parchment paper on baking sheets and bake for about an hour, or until all of the sweet potatoes are soft to the touch.
Let the sweet potatoes cool down, then cube them all with a large, sharp knife and place back on the baking sheets.
Apply cinnamon, nutmeg, and cloves to taste.
Sprinkle lightly with poppyseeds and pink Himalayan salt.
Bake again for 20 minutes at 400 degrees Fahrenheit.
Remove the pans, let them cool, and sort into evenly-weighed meal prep containers.
(Optional) Top with chopped fresh fruit if desired.
Per 6oz serving: 122.2 Cal / 3.1g pro / 27g carbs / 0.2g fat
Makes about 18 servings.
---