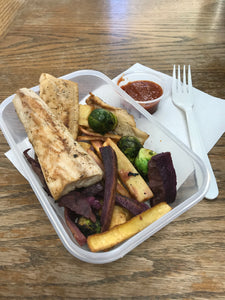 Parsnip Fries
While you can never go wrong with sweet potatoes, if you want to change things up, try this delicious parsnip fries recipe for your food prep. Enjoy them cold with meat of your choice, alone with Paleo ketchup, or have them with runny over-easy eggs on top!
Ingredients:
Ten (10) pounds parsnips
100% olive oil spray
Lemon juice
Salt & pepper
Directions:
Preheat oven to 400 deg.
Cut off the ends of the parsnips. Chop them in half and slice the bottom end into halves and the upper end into quarters, totaling six fries per parsnip. Depending on the size of your parsnips, you may get more fries out of them.
Place all of the sliced parsnips into a large bowl. Drizzle generously with lemon juice first, then lightly spray with olive oil, and add salt and pepper.
Toss with a serving spoon and repeat step 2 two or three times.
Spread over a baking pan evenly so that none of the fries are touching each other. This will ensure they become crisp like fries instead of coming out like baked potatoes.
Bake for 20 min, flip, then bake 20 more minutes until they are crisp.
Let them cool and store.
Per 6oz serving: 210 Cal / 3.4g protein / 51g carbs / 1g fat
Makes about 25 servings.
---