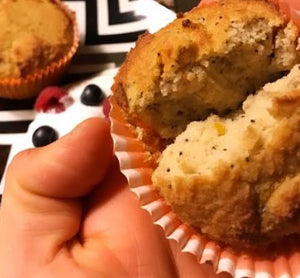 Low-Carb Lemon Poppyseed Muffins
Serves 6. This is a paleo lemon-bread recipe which we have modified to have macro rations friendly to bodybuilding and weight loss. We also added poppy seeds and decided to make muffins instead of bread because who doesn't like muffins???
Additionally, poppy seeds are a rich source of zinc—an important mineral, often neglected when restricting Calories.
Ingredients:
1-1/2c almond flour
1/4c coconut flour
1/3c sugar substitute (we use Monk Fruit / Erythritol sweetener)
1 tsp baking soda
1 tsp baking powder
½ tsp salt
2 Tbsp poppy seeds
1 whole egg
6oz egg whites
Reduced-fat coconut milk, 1/3c
Coconut oil (melted), 2 Tbsp
2 lemons (zest of 2 lemons and juice of 2 lemons)
1 tsp vanilla extract
Directions:
Preheat oven to 350 degrees Fahrenheit.
Mix all of the dry ingredients together with a fork.
Mix all of the wet ingredients together, then mix together with the dry ingredients.
Evenly distribute the mixture into twelve muffin wrappers in a muffin making tin.
Bake for 20-25 minutes. As with any Paleo baking recipe, be sure to check every few minutes to see if they are cooked all the way through; it's easy to burn them! 
Per serving (2 muffins): 254.8 Cal / 10.9g pro / 9.3g carbs / 21g fat
Makes about 12 muffins.
---