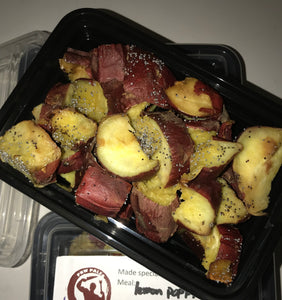 Lemon Poppyseed Sweet Potatoes
As a child, I had a deep affection for lemon poppyseed muffins, as well as lemon poppyseed bread. I created this recipe as a bodybuilding-friendly alternative to a favorite sweet treat of many.
Giving up your favorite sweets to design a healthier lifestyle is much easier when you can replace them with whole, natural foods taste like desserts.
Ingredients:
10 lbs. Murasaki Sweet Potatoes*
Lemon juice
Vodka or whisky (optional)
Ginger powder
Poppyseeds
Pink Himalayan Salt
*This specific species of sweet potato is a must for this recipe. They can be found at Trader Joe's and run a little higher in price than orange sweet potatoes, but they're well worth the money.
Directions:
Preheat oven to 380 degrees Fahrenheit.
Place the sweet potatoes on pieces of parchment paper on baking sheets and bake for about an hour, or until all of the sweet potatoes are soft to the touch.
Let the sweet potatoes cool down, then cube them all with a large, sharp knife and place back on the baking sheets.
Cover them liberally with lemon juice. Add vodka or whisky if desired. Don't worry--the alcohol cooks out but the flavor will remain!
Apply ginger powder, poppyseeds, and a little pink Himalayan salt to taste.
Bake again for 20 minutes at 400 degrees Fahrenheit.
Remove the pans, let them cool, and sort into evenly-weighed meal prep containers.
Per 6oz serving: 122.2 Cal / 3.1g pro / 27g carbs / 0.2g fat
Makes about 18 servings.
---