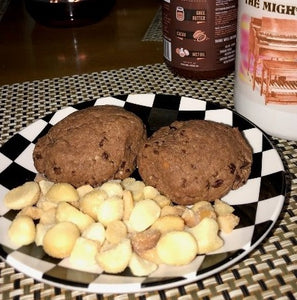 Cacao Keto Cookies
These cookies will satisfy your sweet tooth and leave you full and satisfied after indulging—with almost all of the Calories coming from fat, keeping you on track with your Ketogenic diet.
Ingredients:
1-1/2c almond flour
1/2c salted butter
1/4c cacao powder
3 Tbsp stevia extract
1 tsp vanilla extract
1 egg
½ tsp baking powder
½ tsp salt
3/4c cacao nibs
Directions:
Preheat oven to 350 degrees Fahrenheit. Melt the butter but keep it around room temperature.
Place the butter into a mixing bowl and beat with the stevia. Add the vanilla and egg, mix on low for another 15 seconds.
Add the almond flour, baking powder, cacao powder and salt. Mix until well-combined.
Press the dough together and remove from the bowl. Combine the cacao nibs into the dough with your hands.
Roll the dough to make 12 balls all precisely the same size and place on a baking tray. Bake for 10 min.
Let them cool and serve. Keep in an airtight container so they don't get stale.
Personally I like to have enjoy two of them with a handful of nuts and some decaf with an MCT-oil creamer and stevia.
Per cookie: 189 Cal / 4g Protein / 4.3g Carbs / 17.3g Fat
Makes 12 cookies.
---