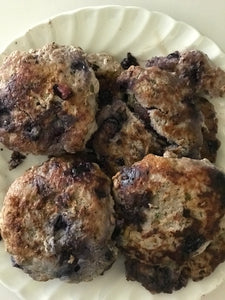 Blueberry Pork Patties
Blueberries with meat?? Really?? Actually, the blueberries are a beautiful compliment to the natural sweetness of the pork and don't even add enough carbs to really be worth counting. Mixed with pink Himalayan salt, freshly cracked pepper, tarragon, and fennel seeds, and finally sautéed in a little coconut oil on a cast-iron skillet, these are a fun twist on the usual breakfast sausage. Serve with eggs, sprouted-grain toast or a baked Murasaki sweet potato!
Ingredients:
1 lb lean ground pork
1/2c blueberries, chopped
½ Tbsp dried tarragon
½ tsp fennel seeds
½ tsp pink Himalayan Salt
¼ tsp black pepper
Coconut oil: just enough to grease the skillet
Directions:
In a large bowl, combine the pork, blueberries, tarragon, fennel, salt and pepper. Mix gently until everything is well-combined.
Form the meat into 8 small patties.
Heat a large iron skillet over medium high heat, and melt the coconut oil.
Fry patties for 4 minutes on each side until completely cooked through.
Per serving (2 patties): 237 Cal / 20g pro / 1g carbs / 17g fat
Makes 4 servings.
---