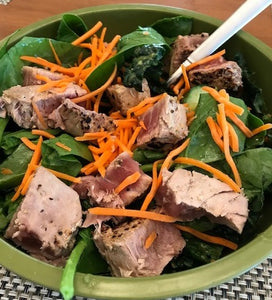 Ahi Tuna Steak
One of the leanest sources of pure protein is also one of the most delicious. It's not very dense and surprisingly low in calories. Any fish digests very easily, so it makes for a good pre-workout. Personally I usually break the fast with fish, as at the end of the fast, your digestive system is in a fragile state and easily digestible food is preferred.
Ingredients:
Four pounds of tuna steaks: I've found Trader Joe's to have the best prices on these. Wal Mart also has good prices on wild-caught tuna.
Lemon juice
100% olive oil spray
Montreal steak seasoning
Directions:
Marinate the steaks by pouring lemon juice on top, followed by a light spray of olive oil and Montreal steak season to taste.
Heat up two large cast-iron skillets on stovetop.
Sear steaks for 90 seconds on each side. No need to bake! They will remain raw and delicious in the middle and will keep for a few days—I've gone as long as a week.
Chop the steaks into pieces and let them cool down before placing them into Tupperware.
Per 5oz portion of tuna steak: 128 Cal / 32g protein / 0g carbs / 0 fat
Makes about 11 servings.
---